For Immediate Release
May 19, 2023
Originally published by The Office of U.S. Representative Richard Neal
Springfield, MA – Congressman Richard E. Neal joined SBA New England Regional Administrator Michael A. Vlacich, SBA Massachusetts District Director Robert H. Nelson, and local and state officials to celebrate Wonderlyn Murphy, President & CEO of City Enterprise, Inc., for being named Massachusetts and New England 8(a) Graduate of the Year by the Small Business Administration. Murphy was named the recipient of this award on April 19, 2023, and was honored at the annual SCORE Boston Celebrates Small Business Success.
"The SBA's 8(a) program has been pivotal in fulfilling the federal government's goal of awarding federal contracting dollars to small, disadvantaged businesses each year. I am particularly delighted to see a small business in the City of Springfield not only taking advantage of this program, but also being awarded for its tremendous success," said Congressman Neal. "Wonderlyn Murphy has built an impressive business, one that prides itself on giving back to the Springfield community. The SBA's 8(a) certification has afforded City Enterprise opportunities that will enable the company to continue its impressive growth and build upon its seventeen years of success."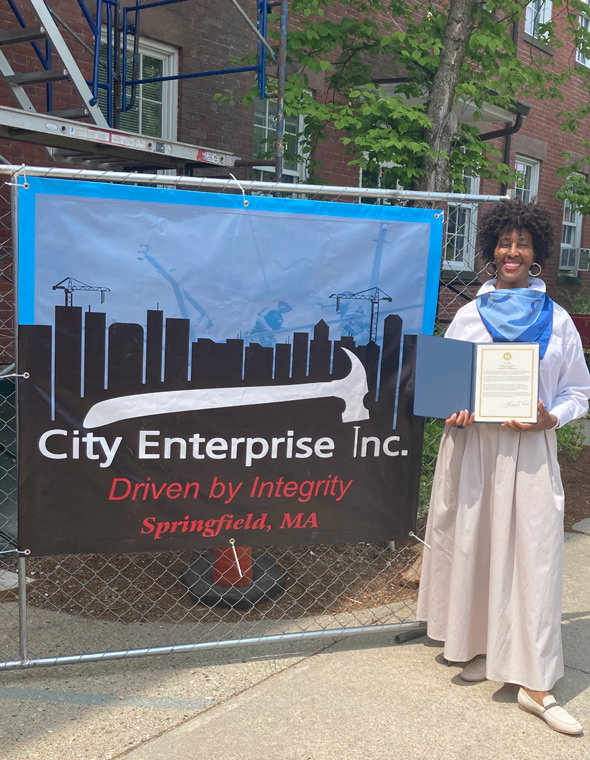 The Small Business Act authorizes the SBA to establish a business development program, known as the 8(a) Business Development program, that helps firms owned and controlled by socially and economically disadvantaged individuals. Eligible businesses that participate in the program receive training and technical assistance that may otherwise not be available to them. The program is designed to strengthen the ability of each business to compete effectively in the American economy, stimulating economic growth in underserved communities throughout the country.
"There was never any doubt that 8 (a) certification was what I needed to propel the business to the next level," said City Enterprise, Inc. President & CEO Wonderlyn Murphy. "Through the SBA 8 (a) program, I was availed resources and opportunities that otherwise simply would not have existed for City Enterprise. I am extremely grateful for the support and pathways that the program opened for the company.
"I am deeply honored to have been selected as the top 8(a) graduate in New England. I look forward to continued growth for City Enterprise and I also look forward to expanding on our efforts to give back to community, which is important to our business model," continued Murphy. "I would like to recognize and thank the entire City Enterprise team for their hard work and dedication; the City of Springfield for their support of small business; my parents for grounding me to do this work; and my entire family for their continued belief in me."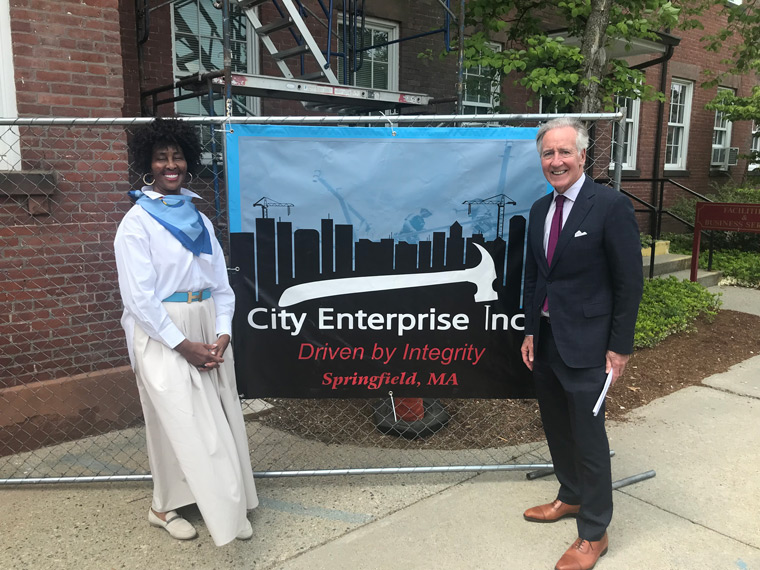 "Wonderlyn Murphy made a concentrated effort to use SBA's 8 (a) certification program to propel City Enterprises to the next level," said SBA New England Regional Administrator Michael A. Vlacich. "She knew the benefits of pursuing government contracts to grow and build a business with a bright future. And since graduating from the program her business continues to thrive."
"Wonderlyn has built a special organization that has thrived after completing the SBA's 8(a) program," said SBA Massachusetts District Director Robert H. Nelson. "It's amazing to see how City Enterprises has found a winning formula that continually demonstrates extraordinary financial performance under Wonderlyn' s tremendous leadership!"
City Enterprise is a full-service contractor, specializing in government, municipal, and commercial projects. Founded in 2006, Murphy's company is certified as an Economically Disadvantaged Woman Owned Small Business with the SBA, as a Disadvantaged Business Enterprise with the Commonwealth of Massachusetts, and as a Division of Capital Asset Management and Maintenance. City Enterprise currently has fourteen employees, with plans to grow this year.